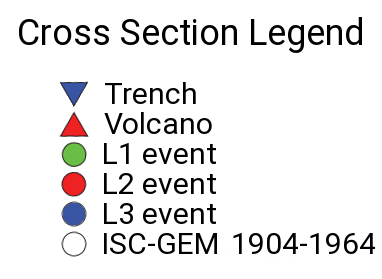 ISC-EHB: Maps and Cross Sections
On this page are maps and cross sections of the ISC-EHB data for 1964-2016. Click on your region of choice to the left to select a subduction zone. A map of the whole zone will appear at the top with the numbered cross sections below. The cross sections were used in the ISC-EHB review process, but we hope they will also be useful for the research community. If you do use any of the figures than please cite as follows:
International Seismological Centre, ISC-EHB Bulletin, http://www.isc.ac.uk Internat. Seismol. Cent, Thatcham, United Kingdom, 2019.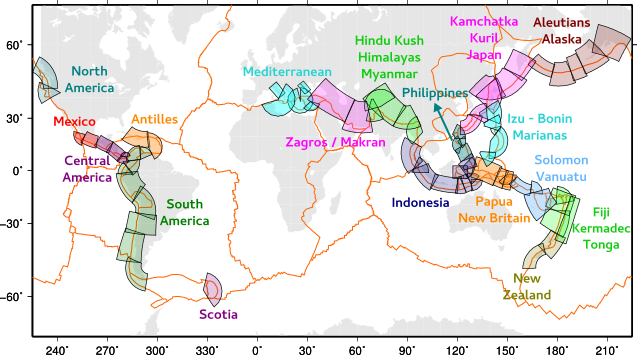 Aegean Arc

Alaska

Alaska Peninsula

Aleutians Central

Aleutians East

Aleutians West

Andaman

Greater Antilles / Carribbean

Lesser Antilles / Carribbean

Italy

Arica

Banda Sea

North of Marianas

Myanmar

Central America North

Central America South

Cascadia Washington

Cascadia Vancouver Island

Celebes Sea

Ceram Sea

Chile Central

Chile South

Colombia South

Colombia North

Cyprus

Ecuador

Chile North

Himalayas East

Himalayas West

Hindu Kush 2

Hindu Kush 1

Hokkaido

Honshu Coast

Fiji – Tonga

Izu Peninsula North

Izu Peninsula South

Java

Java East

Kamchatka

Kermadec

Kuril Islands

Luzon East

Luzon Central

Luzon North

Further east Zagros

Marianas

Mexico

Mexico North

Nankai

New Britain

Hikurangi

Puysegur

Panama – Nicaragua

Offshore Panama

Papua New Guinea West

Papua New Guinea East

Papua

Peru

Philippines

Ryukyu Islands / Japan

Sangihe Island

Scotia

Solomon Islands

Sulawesi

Sumatra

Sumatra North

Timor

Tonga North

Tonga Trench

Tyrrhenian Sea

Vanuatu South

Vanuatu North

Venezuela

Vrancea

South of Marinas / Yap Islands

Zagros / Iran